Last Updated on December 10, 2021 by Barbara Trapp
Note: This post is definitely not "evergreen" since it is based on the ever-changing recommendations and restrictions surrounding the COVID-19 pandemic. All of this content is "as of this writing," so please follow current government guidelines including what is available on the CDC website.
Since so many are working from home or homeschooling, a mass decluttering is in the works. After clearing out all the closets, drawers and garages, what can be done with all the donations? I'll share some safe options for dealing with your cast-offs, but first, here are the hard, cold facts:
Donations centers are closed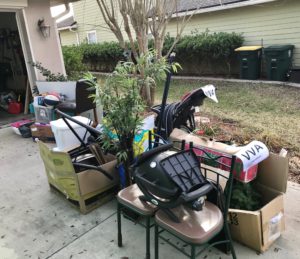 After dozens of phone calls, I finally confirmed that the larger organizations in Northeast Florida are not making pickups and are not able to accept drop-off donations. This is in spite of what you might have seen on some websites, map apps, or heard on recorded messages.
When I was finally able to speak to a real person at the Salvation Army in Jacksonville, Florida, they told me all locations were closed. In fact, the person I spoke with was unaware that the phone recording said their location was open for pick-ups Monday – Friday. He appreciated the heads up! They simply haven't had time to update the information. The same for Goodwill. Their recorded message stated that although stores were closed, some donation centers were open for drop-off. However, several of my clients found those centers closed.
Here are a few of these local organizations. Check back with these sites later about donations, but please note they all need monetary support now:
BEAM Thrift (see their specific request for virtual donations)
Habitat for Humanity offices and ReStore locations
Goodwill Industries of North Florida
Vietnam Veterans (get notified of when pickups resume)
City Rescue Mission (requesting emergency gifts to help with their COVID-19 response)
Let it go later
Prepare it to sell it…later
In the spirit of social distancing and Stay at Home orders, we should not be leaving home to conduct sales. But if you have things of value to sell, you can certainly prepare for it by:
Taking photos
Gathering specs (measurements, etc)
Writing detailed descriptions
Partially pack (if materials are available)
Once restrictions are lifted, you will be so organized you will be ready to post immediately!
Recycle electronics…later
I often take old computers, monitors, fax machines (remember those?), printers and more to Staples since they accept a large variety of electronics. Although they are considered an "essential provider for working and learning" they are not accepting items for recycling at this time. The following local businesses are still accepting items, however, consider supporting them with donations after restrictions are lifted:
Donate clothing, household goods, and the dreaded miscellaneous…later
Pack up gently used items for donation at a later date, and, as much as it pains me to say it, go ahead and stick it in the guest room. There, I said it! Most homes have a room that is the "catch-all" for excess stuff they are holding for someone else (like nearly grown offspring), things waiting for a decision, seasonal clothing, wrapping paper, etc. This room-where-things-accumulate is one of the rooms I often transform with clients.
Other temporary storage locations for weather-proof items include attics, garages, and sheds. Clothing might mildew in the elements, but plastic children's toys will survive. For my northern friends with basements, lucky you!
But not so fast. Before your drag in 20 bags of donations, please declutter and organize what is already in the room first, including closets, dressers, trunks, and any other containers. You may end up with more for your donation pile, but at least you will have made progress with another room in your house.
Let it go now
Curb alert apps vs. bulk pickup
Ready to let go no matter where it goes? Take your stuff to the curb two days before bulk pickup. If someone wants it, they will pick it up.
What about posting curb alerts on sites like Freecycle and Nextdoor? Freecycle has requested that local moderators only allow posting of items – where permitted – which are essential/basic necessities. So, posting alerts for essentials such as paper and cleaning products, diapers, etc, would be within guidelines (again, these guidelines are moving targets) since your donations will prevent someone else from having unnecessary exposure in a grocery store. As for the non-essentials, wait to post until after restrictions have been lifted, or take them to the curb and they will be gone by garbage day. Note: some municipalities have temporarily suspended bulk pick-ups, so check with your service provider.
Donate through Amazon
As of this writing, Amazon is still offering its amazing Give Back Box program. When you receive your next shipment of "whatever," save the box and fill it with seasonally appropriate clothing and household goods you no longer need. They'll even provide a free label! You will have recycled a box and gained space in your closet!
You don't have to do it alone. I can help you declutter and organize your home with Virtual Organizing! Call 904-500-7678 (SORT), message me or schedule your free consult for business or residential organizing, life and productivity coaching. I'd love to help you get some clarity so you can live the life you desire!
Barbara Trapp, CPO®, Certified Professional Organizer® and Life/Productivity Coach
Zen Your Den®  and Zen Your Biz™
Professional Member, NAPO (National Association of Productivity and Organizing Professionals)
Life Transitions Specialist, NAPO
Residential Organizing Specialist, NAPO
Workplace Productivity Specialist, NAPO