Home Organizing is a Process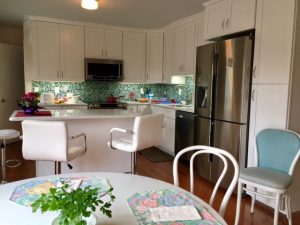 "But on TV they get it done in a day or two!" Remind yourself it didn't get this way in a day, so home organizing will take more than a day, including creating systems that will help you keep it that way. To avoid getting overwhelmed, start small and with the area that is having the biggest negative effect on you now. An overstuffed attic may be weighing heavily on your mind, but clearing off your bed so you can sleep comfortably tonight is probably a higher priority and a quicker fix. But who knows? Maybe your cluttered attic functions as a guest room and family members are arriving in two days. Everyone has different priorities requiring different solutions and plans.
Ready for help? Call organizing specialist Barbara Trapp with Zen Your Den®,  at 904-500-SORT (7678) or send a message here. Following are some common home organizing needs I can help you with:
Home Offices
You deserve an inspiring workspace. From lighting to your chair, to your filing system…I can help you arrange your space so it is attractive and comfortable while enabling you to work efficiently, effectively and safely. All those invoices, receipts, and projects need a home. We'll create systems, whether your "office" is an entire room or a corner in your kitchen.
Paperwork
Paper can be intimidating. Mountains of magazines and newspapers. A constant deluge of junk mail, financial and medical information. And then there are the boxes of old letters and childhood artwork in attics and closets. Warning: paper generally takes more than twice the time it takes to go through other types of clutter. So with realistic expectations in place, we can tackle it.
Closets
You've hit your goal weight (yes, it could happen!). You shove some straining hangers a little to the side to dig for your old "skinny" jeans. Success! They slide on, but to your dismay, you realize your old jeans are really…old. If you haven't seen the back of your closet in years, it's time to empty it out and have every item "earn" its way in…or out.
Kitchens & Pantries
Beyond meal preparation and food storage, a kitchen often does double-duty (or triple) for dining, homework, bill-paying, or game night. Let's determine "activity zones" and bring order to this central hub of activity! In addition, we'll discuss food safety and when to toss what. Including that salad dressing with an expiration date of 2005.
Bedrooms
Your bedroom should be a place of rest. If your mattress is being used as a storage area and you are surrounded by clutter, it will difficult to have restful sleep. Still, sometimes a bedroom has to serve as a mini office. Clearing this area and staging it properly is crucial to turning off your brain.
Bathrooms
Your bathroom should contain what you need to take care of personal needs and get ready for the beginning or end of your day. These spaces are usually small and often shared, requiring strategic organization. Probably not the best spot for a library, but if reading in a lavender-scented bath with candles and a glass of pinot noir is your idea of heaven, then we must arrange for that as well.
Books
I love books. I read or listened to fifty-two in 2016 and usually have two-three in progress at a time. There are many ways to enjoy books without having hundreds in your space. Even clients who claimed they'd didn't think they could part with any books did so while sorting through. Regardless, the books you cherish deserve the right home.
Craft Rooms
Lucky you if you have a room you can dedicate to craft or other hobbies! But for many, this is a shared space. Either way, it should be ready for you when inspiration and time align without looking like a hobby store exploded.
Living Areas
Like kitchens, living rooms and family rooms may be used for several activities. Embrace the natural activity flow of your home and give items the right home, while eliminating excess. Home organizing often starts in these areas as well as entryways and coat closets.
Laundry rooms
If you are like me, you are quick to toss in a load of clothes, but not so enthusiastic about putting them away. And removing clothing from a dryer before wrinkles set in is like a magic trick. So making this area a highly functional laundry processing center is key to make the task less distasteful.
Garages
Along with bikes, holiday decor, tools and garden equipment, you might actually want to park a car or two in there. Determining "zones" and then creating good storage systems is crucial. Also, if this is where you enter your home, you deserve an uncluttered, welcoming entrance, just as you would want for guests when they arrive at your front door.