Last Updated on December 10, 2021 by Barbara Trapp
The Ultimate Honey-Do List to Help Your Parents Age in Place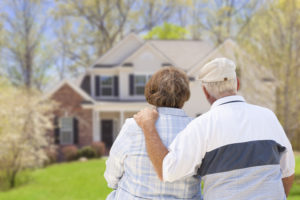 Are you worried about your aging parents staying in and maintaining their home? Not sure how to help them age in place without taking over? Skim through any neighborhood forums and you'll see your aging neighbors are looking for trustworthy people to take care of light repairs and odds and ends. The need is there!
Offer to do a walk-through of your loved one's home to see what needs repair or replacement. Then spend some quality time with them getting things done! Here are some tasks that your parents might appreciate and will set your mind at ease:
Replace smoke detector batteries
Count the number of smoke detectors throughout the home and check the battery type (usually 9 volts). Replace them, writing the date on the battery with a permanent marker. No smoke detectors? What a great gift idea!
Change burned-out light bulbs
Check lamps, fanlights, recessed bulbs, and even fridge and stove lights. Don't forget attics, closets, basements and exterior lights. Replace as needed, considering how the room is used and the color value and brightness level needed. Visit energyearth.com for a lesson on lighting.
Change A/C filters
Check A/C filters and replace them as needed, marking with the date. Pick up a few extra to have on hand. Some filters even have apps associated with them that remind you when it's time to replace them. Once you register, you'll get notifications
Check fire extinguishers
Check the pressure gauge on fire extinguishers to make sure they are fully charged. Some are rechargeable, others are single use. In either case, they all slowly lose pressure over time.
For a recharge, check with the local fire department to see if they can provide a recharge or take to a certified fire equipment dealer. Then make sure it's kept where it is needed. Single-use fire extinguishers that have no pressure need to be replaced. No fire extinguisher? Another great gift idea!
Help them lower their bills
Assist in making calls to utility and subscription service providers to negotiate lower bills or cancel altogether if not needed. For example, cell phones, cable, and internet service companies often offer special deals throughout the year. Offer to help resolve unexplained charges. As a result, you can help them save money.
Update their technology
Help install phone updates, check WiFi connectivity, internet security programs and make sure the TV works. Modems, even if fairly new, can become outdated and stop working. If this happens, assist in getting them replaced.
Fix and prevent safety issues
Test door locks and windows to make sure they are in good working order.
Check electrical cords for fraying.
Look for trip and fall dangers such as sliding throw rugs, furniture blocking pathways, etc. and clear obstacles.
Plan for severe weather and power outages:

Place flashlights in several areas of the home in case of a power outage.
Set up local weather alerts for them and you to receive notifications.
Get contact information for utility services to assist in getting updates on power restoration.

Discuss the pros and cons of a medical alert system. Research features and benefits together and help order if appropriate (and they agree).
Discuss scams that may target them
Talk with your parents about scams targeting the elderly. For instance, one particularly evil one is dubbed, the "Grandparent Scam." Discuss fraudulent IRS calls, emails requesting money and/or information, etc. For more information, check the Better Business Bureau and the National Council on Aging and/or search "scams targeting elderly."
The adage, bad news doesn't get better with time is relevant here. For example, if when visiting you discover lightbulbs out, blown circuits, a TV not working, computers not behaving and parents who are struggling to figure it out or just make do, encourage them to keep a running honey-do list for you (I created an irreverent form called "Crap I Need Help With"). Hearing about problems sooner allows me to fix things faster and that gives me peace of mind. Above all, you'll be helping your parents age in place.
Need help getting yourself or a loved one organized? Call 904-500-7678 (SORT), message me, or schedule your free consult for business or residential organizing, life and productivity coaching! I'd love to help you get organized so you can live the life you desire.
Barbara Trapp, CPO®, Certified Professional Organizer® and Life/Productivity Coach
Zen Your Den®  and Zen Your Biz™
Professional Member, NAPO (National Association of Productivity and Organizing Professionals)
Life Transitions Specialist, NAPO
Residential Organizing Specialist, NAPO
Workplace Productivity Specialist, NAPO