Last Updated on December 10, 2021 by Barbara Trapp
June marks the end of the school year, beginning of summer and peak moving season! Different sizes of containers – boxes, storage units, and homes – are being emptied and filled.
Chaotic Packing Costs Time and Money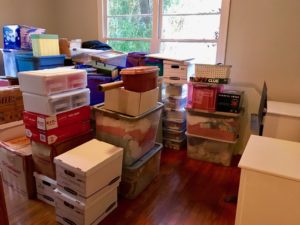 I've worked with a number of organizing clients who hadn't quite unpacked after moving a year or more earlier. They were busy, rushed, and in the end, had to just leave it to the movers to figure out. Later, boxes marked 'miscellaneous' or 'extra kitchen stuff' remain unopened in corners of attics, garages and storage units.
Feeling unsettled is… unsettling. Frazzled people hire me and together we unpack the mystery boxes. They realize they can do without most of our discoveries permanently. Mismatched glassware, worn linens, books, and odds and ends fill donation bags. The purging process starts slow, but momentum builds as we uncover more space. Space to think. Space to breathe. Space to live.
Getting organized before a move has benefits. According to a 2016 study by Wakefield Research for SpareFoot, more than 50% of us describe our homes as cluttered and 61% believe moving is the best opportunity to declutter. Things that are in their right homes when you pack will be packed together. Boxes that are clearly marked with related contents and room destination will be unpacked sooner. And less stuff means less moving and storage expenses!
Key Questions to Ask Yourself
Ask yourself these questions when deciding which items get to earn their way into your new home:
Do I only have this because I feel obligated to keep it?
Does something else I own have the same purpose?
Would I pay to move this?
Would I pay to store this?
Your answers might make the business of moving much less painful!
Need help decluttering before a move or settling in after one? Call me at 904-500-SORT (7678) or message me here for your free consult. I'd love to help you Zen Your Den®!
Barbara Trapp, CAPM
Professional Organizer
Zen Your Den®
Professional Member, NAPO (National Association of Productivity and Organizing Professionals)
Residential Organizing Specialist, NAPO
Workplace Productivity Specialist, NAPO