Last Updated on April 5, 2022 by Barbara Trapp
Counselor, Consultant, or Coach?

What's the difference between a counselor, consultant, or coach? Does a counselor/therapist make recommendations to improve your business processes? Can a coach or counselor help with your extreme depression or anxiety? And what did Glinda the Good Witch say to Dorothy after the hot air balloon lifted away without her? We'll get back to that later, I promise! Here are some examples of what each professional does to help you get down your yellow brick road of life.
Counselor/Therapist
Therapy emphasizes the past, present, and sometimes, the future. Here, the focus is on improving mental health – cognitive and emotional capabilities, functioning and thriving in relationships and society, and meeting the demands of everyday life. Therapists have different approaches and specialties. Licensing is required, and psychotherapists are extensively trained before they can work independently. I am not a therapist, so if a client needs help managing and improving their mental health, I will encourage them to seek help from a licensed therapist.
After Dorothy's world spun out of control (and Kansas) she might have benefited from some therapy before embarking on her trip down the yellow brick road.
Consultant
When I work as an organizer, I am a consultant providing expert advice. Along with the physical work of sorting through papers, clothes and general clutter, I make recommendations about what to keep, what to let go of, and how to store and display what is kept.
Organizing emphasizes the past, present, and future. We work on improving the functionality of systems and spaces, so you can manage your things, time, and activities. Although licensing and certification are not required, I am a Certified Professional Organizer (NAPO), hold specialist certificates in Workplace Productivity, Residential Organizing, and Life Transitions, and continuously invest in professional development.
Need help streamlining processes or organizing your office for maximum efficiency? As a business organizer, I can help with that. Need recommendations on how to organize your kitchen? As a residential organizer, I can give you recommendations and help you get it done. And that includes how to store and pack your fabulous ruby slippers!
Coach
Coaching, on the other hand, is a collaborative process and emphasizes the present and future. In this role, I don't tell you what you should do, but I support you as we explore possibilities and you gain perspective and arrive at your own solutions. We start by identifying where you are and exploring your values and goals. Then we work on shifting you to a place of confidence and competence: your unique potential. We get there through focus and accountability.
The process is a very empowering tool for navigating transitions and reinvention. Although licensing and certification are not required, I am a graduate of a one-year, comprehensive coach training program that offers life and productivity coaching. Coaching is a safe space to share dreams and is ideal for people who are ready to move forward. As one of my clients said, "I knew the answers, I just didn't know the questions. You knew the right questions to ask."
Working with a Counselor, Consultant, and/or Coach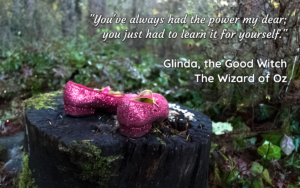 Does it make sense to work with more than one of these professionals at a time? Yes! Have you ever worked with an accountant AND a tax professional AND a financial advisor? Sometimes it's good to let them communicate with each other to give you the best possible results. I am always open to communicating and collaborating with my clients' support professionals – with permission of course.
And what did Glinda, the Good Witch say to Dorothy? "You've always had the power, my dear, you just had to learn it for yourself." Glinda would have made an excellent life coach!
Are you stuck? Call me at 904-500-7678 (SORT), message me, or just go ahead and schedule your free consult for life and productivity coaching, or business or residential organizing! I'd love to help you simplify, amplify, and Zen Your Den® (and your life).
Barbara Trapp, CPO®, Certified Professional Organizer®, Productivity Consultant, and Life Coach
Zen Your Den®
Professional Member, NAPO (National Association of Productivity and Organizing Professionals)
Life Transitions Specialist, NAPO
Residential Organizing Specialist, NAPO
Workplace Productivity Specialist, NAPO